Harmonia
Welcome to Harmonia, a growing, aspiring community where designers can showcase their work, discover new designers, help others and work together as a whole because it's not always fun being a lone warrior. We have a variety of different designs to browse through and encourage new members and ideas.
Recents news and updates
Release 0.9

Posted by Vizune on 2013-06-12 04:30:37 CDT
Harmonia is now 1 month old, bless her. I was meant to post this update along with the new tutorials on submitting designs the weekend just past but life has all of sudden taken a turn for me and gone hectic (adult responsibilities, bleh!). I have made loads of changes to the site since the last update however.
The poll is so very close between two with 4 votes each so please get others to vote, not only members are restricted to voting. I would like everyone's opinion.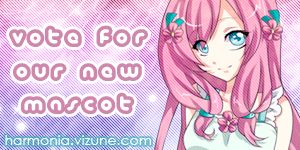 Website template changed featuring a design by our member, Cali.
Introduction paragraphs describing content pages and welcome message on homepage
Updated the "Join" page including the form. There was a lot of confusion about Harmonia so I hope this clarifies things better.
New pages: Contests, Polls, Web layouts
Signatures posts are changed to 200 x 120 thumbnails with download link
Harmonia's unofficial contest, for members to submit a certain amount of designs and receive an item in their inventory.
27 new avatars by Ryumii and Martin, 7 new web layouts by Sasha
5 new contests advertised
3 new members: Thoth, Kristin and Aihara chan
New feature being introduced soon (inventory). First 12 members will receive the "Founding Member" gift and item in their inventory
"Release 0.95" will be adding tutorials and tutorial requests page and I will be revamping the tutorials on how members can submit designs. Hopefully, there will be a mascot with the most votes and then Version 1.0 will be released with the new mascot.
tell a friend :: comments 0
---