Harmonia
Welcome to Harmonia, a growing, aspiring community where designers can showcase their work, discover new designers, help others and work together as a whole because it's not always fun being a lone warrior. We have a variety of different designs to browse through and encourage new members and ideas.
Recents news and updates
Hello everyone
Posted by Mochi on 2013-06-21 01:41:24 CDT

Hello everyone, Moch here. I been wanting to join Harmonia since forever but never had the chance to but I finally did!
For my first time joining, I present 1 measley Icon (using it) and a decent web layout that can't be downloaded anywhere else! It's actually a premade version of my fanlisting collective's layout but hey, share the love! It features Vampire Knight and a header designed by other lovely member Lucien from her site I adore! Here is a preview: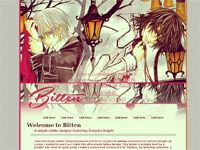 You can find it on the layout page. That's it! See ya!
tell a friend :: comments 0
---