Harmonia
Welcome to Harmonia, a growing, aspiring community where designers can showcase their work, discover new designers, help others and work together as a whole because it's not always fun being a lone warrior. We have a variety of different designs to browse through and encourage new members and ideas.
Recents news and updates
Hey there =)

Posted by Ethiwen on 2013-07-19 21:44:58 CDT
Why hello everybody! =) This introduction is way overdue, but I'm Karen. For those of you who remember Lady-Ethiwen, Ethiwen or Ethie-Chan of "Lonely Tides" and "Mesmerized", that is me as well; I used to own those sites until I had to shut them down due to school and such. I mainly go by Karen, but you can call me by my other aliases as well. For those of you who don't know, I'm the webmiss of Heart's Melody, an anime graphics site and Hibiscus, a fansite/shrine dedicated to AsuCaga. I decided to join this little community and post my favourite designs and graphics, just wanting to share some of my best work =) The rest, you can find on my website(s). Unfortunately, I do not have any new additions, but soon, I'll post some; be patient with me ok?
In the meantime, I thought I would advertise my current contest on Hibiscus (if this is not okay Sasha, feel free to delete this paragraph):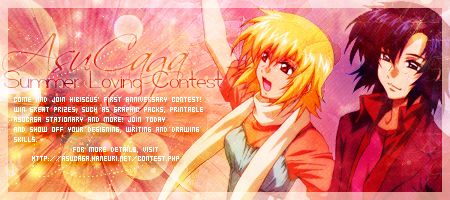 For being online for over a year now, I've decided to host a celebratory contest in the name of AsuCaga =) Great prizes and everything and it'll be fun to see what people can come up with. No deadline at the moment, so lots of time!
tell a friend :: comments 0
---